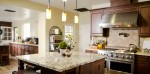 When looking for a new piece of real estate in Rochester, a big part of the home buying process is choosing a neighborhood that fits your lifestyle. You want to do some extensive research on the area, the type of people that live there, the schools in the area if you have children, warning signs, and establishments nearby to determine whether or not this would be a good fit for you.
Scope Out Your Neighborhoods
It never hurts to drive through a few neighborhoods. This gives you an opportunity to see how the neighborhood generally looks. You can see if it's well kept, or not. You can also judge the feel of the neighborhood by the amount of cars on the street and for sale or for rent signs in the neighborhood. This will help you gauge if a lot of people are renting or are unhappy with their homes.
Envision Yourself In The Neighborhood
Instead of judging everyone in and around your neighborhood, turn the focus back on yourself. Can you imagine yourself living in this area? Are the houses the type of houses that you enjoy? Can you afford enough space in your price range? You have to make sure that the real estate that you choose is a great fit for your regardless of what others may think or express.
Realty Executives Stoney Creek knows the Rochester area very well and would be more than happy to help you find the ideal neighborhood to help you close in on the real estate property of your dreams in the right location!